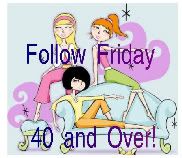 Oh, I almost forgot to post the Friday Follow! Thanks Mimi for the reminder.
A quick note to update more on my Hot 100 challenge - Hubby said today maybe he'd have to start losing weight. I was showing him how loose my wedding set is getting (not as loose as my birthday suit) and it made an impression on him.
Also, I did well last week on being in bed by 10. One night we stayed up late for a special occasion, but the rest I've done well on. So I'm drinking tons of water and getting lots of sleep, washing my hands a lot but still ended up sick. Bah. I need more fruit for sure. I let myself get frustrated because I can't digest the citrus well and that limits me, but that doesn't mean I can eat a boatload of bananas, pears, apples, and other fun fruits. Maybe it's time to try pomegranates and mangoes. Something else? What do you guys think?